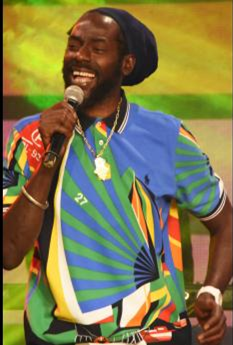 Though not being able to travel to the United States due to travel restrictions, that has not the Grammy-winning Buju Banton from making live performances on several US television shows over the past few months. Virtual shows continue to dominate the entertainment scene as the world is still on lockdown due to COVID-19.  Making the most of living-stream performance, Buju is one of the many artistes you has jumped at the opportunity.
Banton had performed at the BET's virtual COVID-19 relief concert back in April and on Tuesday he was again before US audiences when he made a debut performance on The Tonight Show with Jimmy Fallon.
Undoubtedly COVID-19 has interrupted the plans of many in the entertainment sector, however, it has given artiste like Buju the opportunity to connect with fans in countries that he has been banned from going to. With television shows and the international circuit now having to turn to online platforms to each patron, entertainers and artiste can now reach fans via live-streaming.
Seeing the opportunity in the adversity, Buju and other artiste in similar position who have any form of restrictions placed on them are said to be happy to make it into mainstream TV anywhere. While not being able to travel to various countries physically, a virtual performance is a great substitute for them to make their appearances on these international platforms across the world.
COVID-19 seems to have opened up more doors for Buju than he had expected. Online streaming has opened up multiply opportunities for the artiste as he will be making several appearances on virtual shows on the US circuit in the coming months. Among those are; Billboard Live and Amazon. This being the new way of staying relevant with the audience for the time being, the artiste is taking very opportunity that comes his way.
An encore presentation of Banton's performance on The Tonight Show is set for the 26th of this month. Buju Banton will be performing his single The World Is Changing from his recently released album, Upside Down 2020.
Buju Banton Performs Virtually On The Tonight Show